Temporomandibular joint (TMJ) is a pain in the jaw that can be caused by numerous medical issues. Keep reading to find out what TMJ pain is and how to treat it.
The TMJ connects the lower jaw (mandible) to the skull (temporal bone) in front of the ear. These joints allow the movements needed for facial expressions, speaking, singing, whistling and eating.
TMJ disorders are quite common, and they can cause abnormal jaw movements, pain and noises in the joint. Often TMJ can feel like your jaw is popping, clicking or momentarily getting stuck. Sufferers of TMJ pain may experience either sharp pain or a dull, constant ache. 
Image from the Mayo Clinic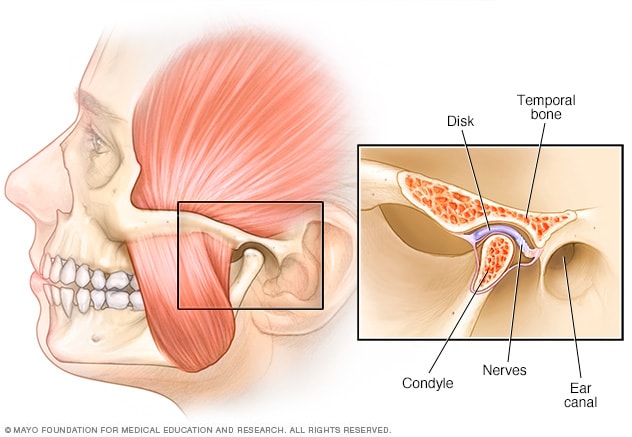 Symptoms of TMJ pain
Locking of the jaw – which makes it difficult to open or close your mouth

Discomfort or pain in the jaw which is common during eating

An uneven or uncomfortable bite

Clicking and grating noises when chewing and opening mouth

Aching pain in the front of ear, which may spread to the rest of the face

Headaches, pain and pressure behind the eyes

Dizziness and vision problems

Tooth sensitivity

Pain in the neck and shoulders
What can cause TMJ pain?
Stress

Jaw clenching and teeth grinding

An injury

Dental issues – new dentures and fillings

Osteoarthritis, fibromyalgia, gout, rheumatoid arthritis

Genes and/or hormones

Infections and autoimmune diseases
Occasionally, people have TMJ pain without any obvious cause.
How to treat TMJ pain
To relieve the symptoms of TMJ you can try the following:
Cutting food into small pieces

Eating softer foods

Avoid clenching your jaw

Taking over the counter medications, pain relievers or anti-inflammatory drugs

Wearing a mouthguard when sleeping

Avoiding chewing gum

Not opening your mouth wide

Gentle jaw stretches
If you or someone you know may be suffering from any of the above signs of TMJ, you can book an appointment online to discuss your symptoms and treatment options with one of the Independent GPs who consult at HealthMint.
If necessary, your GPs may refer you to see a dentist for specialist treatment for your TMJ pain. Berwick Dental Studio in Berwick may be able to help – you can check out their amazing range of dental services here